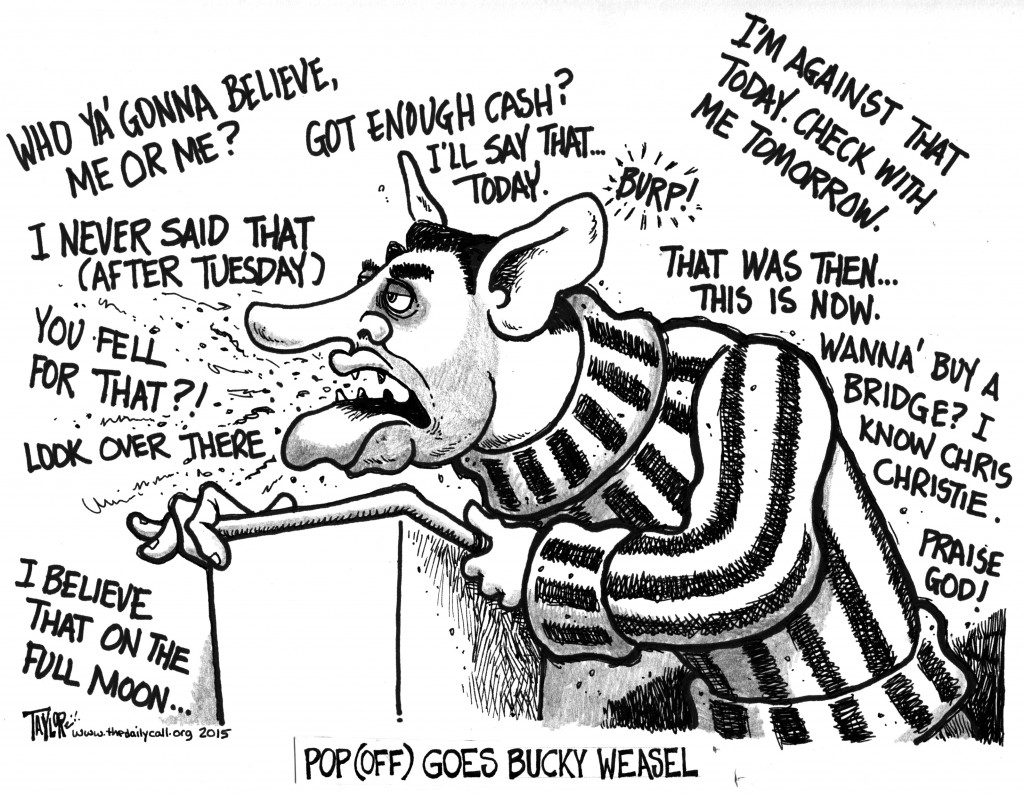 (Daily Call cartoon by Mark L. Taylor, 2015. Open source and free to reprint with link to www.thedailycall.org )    By Dee J. Hall The Wisconsin State Journal (3/12/15)  
Gov. Scott Walker was against a federal ethanol mandate — until he was for it.
The Republican governor also has changed his stance or priority — at least publicly — on other issues, including giving immigrants who are in the country illegally the chance to become U.S. citizens, making Wisconsin a right-to-work state and leaving the decision about having an abortion to "a woman and her doctor."
Walker's change of heart on the federal renewable fuel standard — revealed at an appearance arranged by Iowa agribusiness interests on Saturday — is the latest in a recent series of reversals on policy issues and priorities as he readies himself for a 2016 presidential run. The standard requires that transportation fuels include a minimum amount of renewable energy, such as corn-based ethanol — something Walker strongly opposed 10 years ago.
Moving target
Larry Sabato, director of the Center for Politics at the University of Virginia, said Walker is following a time-tested strategy for anyone seeking the Republican presidential nomination.
"Nothing much has changed since Richard Nixon formulated the basic strategy for a GOP presidential candidate back in the 1960s: 'Run to the right to get the nomination, and back to the center for the general election,'" Sabato said. "The one shift is that the GOP's center of gravity is much further to the right today than in Nixon's time.
"A candidate like Scott Walker has to focus entirely on the nomination right now," he added. "Usually, candidates at this early stage say, 'I'll worry about the general election when I get there.' My guess is that is precisely what Walker is thinking."
Migrating positions
AshLee Strong, spokeswoman for Walker's political nonprofit, Our American Revival, issued a statement saying the governor has various reasons for his stances on immigration, abortion, right-to-work and ethanol subsidies and that "tying them together to create a narrative is only telling part of the story."
On immigration, Walker changed his position after learning from other governors about the "collateral damage" of President Barack Obama's "unconstitutional executive action" opening a path to citizenship for millions of illegal immigrants, she said. On abortion, Strong said Walker has a 100 percent rating from Wisconsin anti-abortion groups, so his desire for a bill banning all abortions after 20 weeks' gestation should be no surprise.
She also noted Walker's long support for right-to-work.
On the ethanol standard, Strong insisted that Walker only opposed state mandates for ethanol use — although that's not what he said in 2006 during a run for governor.
"Mandates hurt Wisconsin's working families, and whether they are from Washington or Madison, we as fiscal conservatives should oppose them," Walker said at the time.
Rather than eliminating the mandate, Walker now favors a phaseout "because there's a level of certainty that farmers and producers depend on."
Added Strong, "I would also remind you that what he's done in Wisconsin from his position as governor is going to present issues differently than him now as a potential candidate looking at issues from a different perspective."
Selective messages
The policy reversals aren't the only change in behavior by the battle-tested governor whose book, "Unintimidated: A Governor's Story and a Nation's Challenge," touted his steely resolve on policy matters. The normally accessible governor has also become much more selective in his messaging.
During his re-election campaign, Walker wouldn't discuss or gave vague answers to pointed questions on topics including right-to-work and abortion.
Walker also repeatedly said during the 2014 campaign that his position "really doesn't matter" on the state's same-sex marriage ban. But when quizzed about his position on Fox News in late February, Walker said he opposes gay marriage.
Government by bait n' switch surprises
The significant budget cuts and sweeping organizational changes he is proposing in the state's 2015-17 budget for the state Department of Natural Resources, the University of Wisconsin System and the Department of Health Services also caught people off guard, said John Torinus, a West Bend business leader who has voted for Walker three times and contributed to his 2010 campaign for governor.
He described Walker's leadership style as "government by surprise." And although Torinus supports right-to-work, he said the way Republicans rolled it out was more like an "ambush" than a thoughtful and informed public policy initiative.
"How are the citizens of this state to know what the hell is going on?" said Torinus, chairman of Serigraph Inc. and a long-serving board member of the powerful business lobby, Wisconsin Manufacturers & Commerce. "You want to know where your leaders stand. Then you find out the guy I voted for isn't the guy I thought he was.
"I think a lot of people would've voted differently in that (2014) election if they knew what the Walker agenda was," Torinus added.
Left-wing groups have accused Walker of pandering to conservative primary voters at the expense of Wisconsin residents.
Loyalty to Number One
"Walker's propensity for saying one thing while doing another and the subservience of principle to political expediency in order to advance his own ambitions has come to the fore," the liberal One Wisconsin Now said after Walker's reversal on ethanol policy.
Although he supports right-to-work, the governor repeatedly over the past four years downplayed suggestions that Wisconsin become a right-to-work state, saying that private-sector unions were his partners in growing the state's economy and that such legislation would be a "distraction" to his agenda. This week Walker signed right-to-work legislation into law.
The governor, long an opponent of abortion, also has shifted his public stance on that controversial issue.
During the 2014 race against Madison School Board member Mary Burke, Walker's campaign released an ad in which he spoke directly to the camera and said the decision to terminate a pregnancy should be made by "a woman and her doctor."
Last week, however, Walker asked lawmakers to send him a bill that would ban all abortions after 20 weeks. That prompted NARAL Pro-Choice America to take out an ad in the Des Moines Register warning Iowa residents that Walker "will never be honest with you" about his stance on abortion.
Despite his recent changes in position — or perhaps because of them — Walker's stature among the field of likely Republican candidates has risen sharply. But in Wisconsin, Walker's approval rating is the lowest it's been since the massive protests against Act 10, according to poll by the liberal leaning Public Policy Polling released Tuesday. Additional polling on Walker's approval rating in Wisconsin is forthcoming.
"Can Walker go too far right in the primaries and hurt himself in the general election?" Sabato asked. "Of course. Mitt Romney certainly did, on immigration and other topics. That's the risk of Walker's current strategy."
Gov. Chicken Heart: Scott Walker Ducks Invite To Address Firefighters Conference - The closest Gov. Genghis Khan has ever gotten to a heroic act was when he sent an intern out to fetch him a hero sandwich and a Tab while waiting patiently for David Koch's nightly midnight phone call from der bunker … Read the Rest