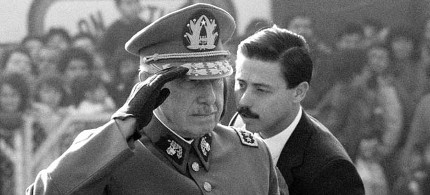 Dictator and American ally Augusto Pinochet. (photo: unknown)
"It's shameful that at a time the U.S. prestige as a democracy is under attack, that the National Defense University could be playing footsie with a former state terrorism agent,"
- Martin Edwin Andersen, whistle blower. 
By Marisa Taylor and Kevin G. Hall McClatchy DC (3/13/15)
A member of the late Chilean dictator Augusto Pinochet's brutal secret police who's been accused of murder taught for more than a decade at the Pentagon's premier university, despite repeated complaints by his colleagues about his past.
Jaime Garcia Covarrubias is charged in criminal court in Santiago with being the mastermind in the execution-style slayings of seven people in 1973, according to court documents. McClatchy also interviewed an accuser who identified Garcia Covarrubias as the person who sexually tortured him.
Despite knowing of the allegations, State and Defense department officials allowed Garcia Covarrubias to retain his visa and continue working at a school affiliated with the National Defense University until last year.
Human rights groups also question the school's selection of a second professor, Colombia's former top military commander.
Some Latin America experts said the hirings by the William J. Perry Center for Hemispheric Defense Studies reflected a continuing inclination by the U.S government to overlook human rights violations in Latin America, especially in countries where it funded efforts to quash leftists.
But those experts were especially troubled by Garcia Covarrubias' long tenure at one of the nation's most renowned defense institutions.
Horsewhips & perversity
"His hiring undermines our moral authority on both human rights and in the war on terror," said Chris Simmons, a former Defense Intelligence Agency and Army intelligence officer from 1982 to 2010 who specializes in Latin America. "If he is in fact guilty of what he is accused of, he is a terrorist. Then who are we to tell other countries how they should be fighting terrorism?"
To his supporters, Garcia Covarrubias is a brilliant thinker with a Ph.D. and purveyor of leadership skills. To his alleged victims, he's a sadistic torturer with a penchant for horsewhips and perversity.
A 2008 Chilean military document reviewed by McClatchy identified Garcia Covarrubias as a member of the Dirección de Inteligencia Nacional, the feared spy agency known by its acronym DINA.
"DINA was simply the most sinister agency in Latin America," said Peter Kornbluh, a senior analyst with the National Security Archive, which secured the release of U.S. government classified documents underscoring the complicit relationship between the U.S. and Pinochet. "Anyone associated with that agency should never have been allowed into this country, let alone given this job."
Officials with the Pentagon, the State Department and the school refused to comment.
Garcia Covarrubias is now back in Chile, ordered by an investigative judge in January 2014 to remain in the country while an inquiry continues into his alleged role in the deaths of seven people in Temuco weeks after the U.S.-backed Pinochet coup on Sept. 11, 1973.
His case is one of 108 involving tortured, disappeared or murdered supporters of the deposed elected president, Salvador Allende. More than 3,000 people died at the hands of the regime, and in 2003, then-Secretary of State Colin Powell offered regrets for U.S. involvement in the coup, calling it "not a part of American history that we're proud of."
Garcia Covarrubias' attorney, Jose Luis Lopez, declined to make his client available for an interview. He also refused to respond to a detailed list of questions or to provide a description of the jobs Garcia Covarrubias held under Pinochet.
"The problem is that the info and questions are based on erroneous information and totally biased against Jaime Garcia," Lopez, who is based in Santiago, wrote in an email.
The center's officials who hired and renewed Garcia Covarrubias' contracts say he was a highly qualified professor and minimize the allegations against him.
"We made inquiries with people in the region, in Chile and so forth, and were never given anything negative about Jaime," said Margaret Daly Hayes, the center's first director. "He was vetted by the U.S. government, by the (U.S.) Embassy. They obviously didn't have anything either or he wouldn't have been hired."
Alleged victims speaks out
McClatchy, however, located one of his alleged victims, who described being brutalized by him.
"They submitted us to torture, twice a day. We were submerged in feces," Herman Carrasco, who's now a real estate agent, told McClatchy in Chile. "They stuck rifle barrels in our anuses."
According to Carrasco, the torture unfolded in October and November 1973 – lorded over by the horsewhip-wielding Garcia Covarrubias – and included electric shock administered to eyelids, genitals and other sensitive areas of the body.
"He was the person who tortured us, with his face shown," said Carrasco, who added that he'd known Garcia Covarrubias from social events before the coup. "He forced us into sexual acts, which shows that besides ferocious cruelty there was a level of psychopathic behavior."
When Garcia Covarrubias was hired in 2001, and through his first three-year contract renewal, his name was not publicly linked to the feared DINA.
But in 2008, the Chilean military presented a list of 1,097 DINA members to Chilean Judge Alejandro Solis. Although his name was on it, Garcia Covarrubias told an Argentine newspaper in 2010 that he only taught in the national intelligence school.
"I never was an operative," he said, citing his low rank at the time. "As a lieutenant, I was never an instructor of torture techniques."
The DINA link matters. DINA was disbanded and reorganized into a new agency in 1977, a year after Chile's ex-Foreign Minister Orlando Letelier and his American aide were killed in a car bombing on Washington's Embassy Row.
The killings and other assassinations outside Chile were attributed to DINA. The Nixon administration's support of a regime that relied on rampant torture helped galvanize the human rights movement in the United States.
Garcia Covarrubias also has denied working late in the regime as a speechwriter for Pinochet, saying he was just an official in the secretariat of the presidency.
On his LinkedIn professional profile, Garcia Covarrubias lists himself as director of the country's war college and boasts that he commanded forces.
Concerns raised, and ignored
As early as 2008, some of his colleagues at the center were questioning his past. Martin Edwin Andersen, the center's former communications director, tried to talk to the school's top officials about the charismatic Chilean. Emails show he was repeatedly scolded for raising the matter …