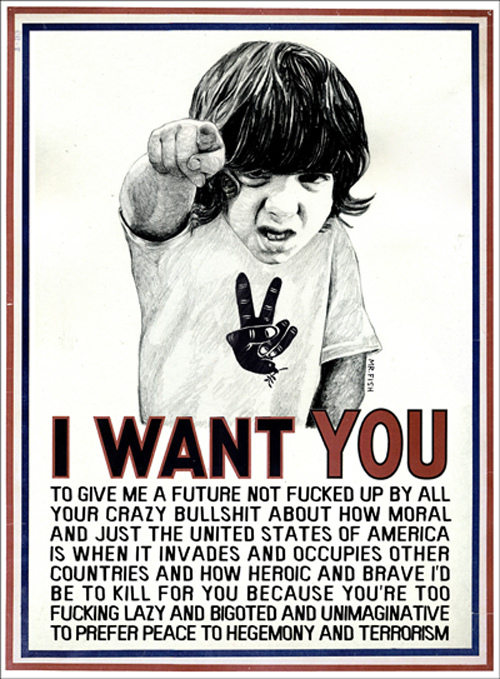 (Editor's Note: This conversation between Chris Hedges and political cartoonist Mr. Fish covers a number of issues, but I found their discussion of how an activist keeps going at a time of increasing repression to be especially helpful. — Mark L. Taylor)
Days of Revolt (3/17/16)
This week's episode of teleSUR's "Days of Revolt" features Chris Hedges in conversation with political cartoonist Dwayne Booth, also known as "Mr. Fish." They sit down to discuss the "unpleasant truth" revealed by political cartoons.
They immediately dive into the "friction" of Mr. Fish's work—some of his pieces have drawn heavy criticism, such as his illustration for Harper's Magazine on Martin Luther King Jr. Mr. Fish explains how he attempts to upend people's allegiances to a political "team" through images: "[W]ith images when you show the brutality of how this game is played, that's when people are going to see it as being much more believable than if you're trying to convince them with an intellectual argument."
Hedges also brings up the emotional and historical aspects of the work—to which Mr. Fish responds that this "shock value" resonates with audiences "as a form of truth-telling." Rendering the truth—whether it be about presidential campaigns, military endeavors or corporatism in America—is a central point of the discussion. As the conversation wraps up, Mr. Fish sums up one of his struggles as an artist: "I wouldn't be able to live with myself if I felt like I was just contributing to this doomsday."
Watch their discussion below (via TeleSUR), in which they talk about everything from Gaza, the "embarrassing" nature of cartooning in this country, and a piece that couldn't be published.