By Laura Bassett
Huffington Post (3/4/16)
While business mogul and GOP presidential candidate Donald Trump stood on a debate stage Thursday night talking about his penis, a number of significant things were happening around the world that will eventually demand the attention of whoever is elected to the White House.
As Trump, the likely Republican nominee, assured the American people that there was, in fact, "no problem" with the size of his package, North Korean dictator Kim Jong Un made a nuclear bomb threat against the U.S. and South Korea. Kim said the country's "nuclear warheads need to be ready for use at any time," responding angrily to recent sanctions by the U.S. intended to cripple North Korea's nuclear program.
Meanwhile, the most significant refugee crisis in Europe since World War II approached its boiling point. The Associated Press reported that 10,000 people were sleeping in tents around a refugee camp in Greece that can only take in 2,000. Migrants from Syria, some of whom lost their family members during the treacherous boat trip to Greece, are losing hope of finding a better life. "Hope can't stay in places like this," Hala Haddad, a 19-year-old English literature student from Syria, told AP. "The only thing that's here is desperation and misery."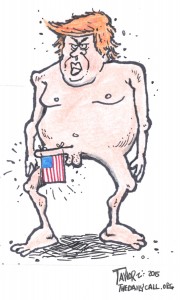 (Daily Call cartoon by Mark L. Taylor, 2015. Open source and free to use with link to www.thedailycall.org )
Trump is not likely to help these refugees, as he suggested banning all Muslims entering the U.S. He did not waver on this position during the GOP debate Thursday night, but he did assure American voters of penis size — and not for the first time.
In other news, a new video from the self-described Islamic State surfaced on Thursday showing an orphanage where the group claims to be training children as the next generation of jihadi fighters. Iran invited the American company Boeing to discuss modernizing its fleet of aircrafts — a move that the New York Times called "the first tangible results of a less-hostile climate between the United States and Iran since a landmark international agreement on Iran's disputed nuclear activities took effect in January." And a new study published in British medical journal The Lancet on Thursday found that the effects of climate change on India's food supply are projected to starve 135,000 people to death by the year 2050 if something isn't done about the crisis.
While these and other global developments were eclipsed Thursday night by a debate about Trump's johnson, they were not lost on Canadian Prime Minister Justin Trudeau. Trudeau said in an interview with "60 Minutes," just hours before the GOP candidates took the stage, that "it might be nice if [Americans] paid a little more attention to the world."
To be fair, Trump did not entirely ignore the rest of the world on the debate stage. He said he would coerce American soldiers to break domestic and international law by waterboarding and torturing suspected terrorists. But in the green room after the debate, he returned to the more important issue of the evening: whether the size of his "hands" was smaller than those of a reporter standing by.
"Lemme see your hands — see?" Trump said. "I have good-sized hands, and, they say, very beautiful."