The Republican Party and its surrogates will almost certainly exploit this weak spot during the general election if, in fact, she secures the Democratic nomination.
By Jon Queally
Common Dreams (2/26/16)
From the New York Times editorial board to a Republican-friendly super PAC, it appears unease is widespread over Hillary Clinton's continued refusal to release transcripts of recent paid speeches she gave to some of Wall Street's most powerful firms.
In a sharply-worded editorial in Friday's print edition, the Times described Clinton's excuses for not releasing the transcripts as those of a "mischievous child, not a presidential candidate"—arguing that "public interest in these speeches is legitimate" and that by "stonewalling" their release "Mrs. Clinton plays into the hands of those who say she's not trustworthy and makes her own rules."
However, in an interview with MSNBC's Mika Brzezinski and Joe Scarborough that aired Friday morning, Clinton again defended her relationship with Wall Street and said the voting public has no need to worry about what she may have said in the speeches that earned her millions of dollars.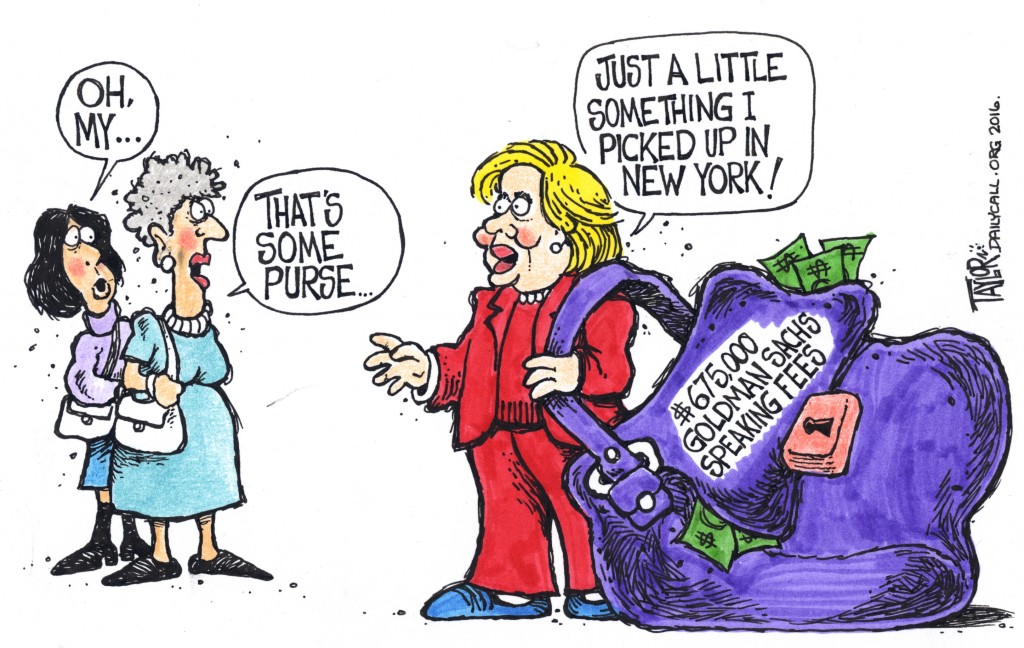 (Daily Call cartoon by Mark L. Taylor, 2015. Open source and free to use with link to www.thedailycall.org )
"Can you assure the American people that you didn't say anything in those speeches that would undermine your promise to be tough on Wall Street?" asked Brzezinksi.
"Absolutely, absolutely. Absolutely," responded Clinton. "And besides, I'm on the public record. I told them what I'm going to do. I said I'm going to go after big banks that pose a systemic risk. I want you to hold me accountable for that because I will do that exactly."
Clinton's reasoning, however, runs headlong into what her critics are charging. How can they be sure that what she has said publicly as a candidate squares with what she told bankers in a more private setting?
As the Times editorial notes, even for those who might be eager to support her, Clinton "is damaging her credibility among Democrats who are begging her to show them that she'd run an accountable and transparent White House."
The editorial adds:
Voters have every right to know what Mrs. Clinton told these groups. In July, her spokesman Nick Merrill said that though most speeches were private, the Clinton operation "always opened speeches when asked to." Transcripts of speeches that have been leaked have been pretty innocuous. By refusing to release them all, especially the bank speeches, Mrs. Clintonfuels speculation about why she's stonewalling.

Her conditioning her releases on what the Republicans might or might not do is mystifying. Republicans make no bones about their commitment to Wall Street deregulation and tax cuts for the wealthiest Americans. Mrs. Clinton is laboring to convince struggling Americans that she will rein in big banks, despite taking their money.
Grist for the GOP
The other issue, as evidenced by a new ad attacking Clinton over the speeches, is the way in which the Republican Party and its surrogates will almost certainly exploit this weak spot during the general election if, in fact, she secures the Democratic nomination.
As CNN reported on Thursday:
A conservative super PAC tied to a number of top Republican donors will start airing an ad Saturday that knocks Hillary Clinton for delivering paid speeches to Wall Street and corporate groups and refusing to release the transcripts of those speeches.

The ad, which will air on CNN and MSNBC through Super Tuesday and was made by the group Future45, is the most recent attempt by Republicans to force Clinton to release transcripts of her paid speeches.

"Hillary Clinton gave speeches to the biggest banks on Wall Street after one of the worst financial crises in American history," a narrator says over video of a Clinton look-alike opening a check from Goldman Sachs. "But Hillary won't tell us what she said to those banks. They paid her over 1 million dollars and are contributing millions more to elect her."
Questioned about the right-wing attack ad, Clinton's campaign told CNN they see it as just another attempt by Republicans to boost her rival for the Democratic nomination, Sen. Bernie Sanders.
"This is just another instance of Republican Super PACs echoing Bernie Sanders' personal attacks against Hillary Clinton," said Brian Fallon, Clinton's press secretary. "The Wall Street hedge funds bankrolling these ads are propping up Senator Sanders because it is Hillary Clinton they fear the most."
That may or may not be true. However, as many polls and much reporting have shown, Sanders continues to outperform Clinton when it comes to hypothetical match-ups against the remaining Republican candidates, including Ted Cruz, Marco Rubio, and frontrunner Donald Trump.
(This work is licensed under a Creative Commons Attribution-Share Alike 3.0 License)