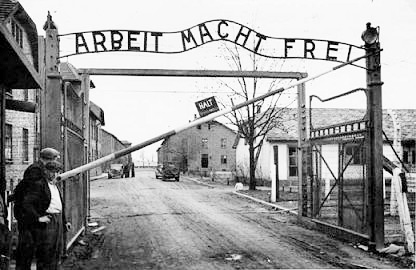 1945 photo of the gate into the main Auschwitz camp.
(Editor's Note: Given we have two virulent fascists leading the Republican primary snarlfest this beautifully somber video is a reminder of the precipice this nation is on at the moment. Remember, all the German pundits and experts predicted that Hitler would never be taken seriously and could never rise to power. — Mark L. Taylor)
BBC (1/27/15)
Drone video shows the Auschwitz-Birkenau concentration camp as it is today - 70 years after it was liberated by Soviet troops. The camp in Poland is now maintained as a World Heritage Site and is visited by thousands of tourists and survivors every year. Auschwitz was the largest camp established by the Germans during World War II. More than a million people - the vast majority of them Jews - died there between 1940, when it was built, and 1945, when it was liberated by the Soviet army.
Railway tracks into Auschwitz-Birkenau - Trains filled with victims from throughout occupied Europe arrived at the camp almost every day between 1942 and the summer of 1944.
Ruins of wooden huts at Birkenau - Birkenau (or Auschwitz II) was erected in 1941 solely as a death camp, the wooden huts are now in ruins with only brick fireplaces and chimneys remaining.
Entrance to Auschwitz I — The wrought-iron sign over the entrance bears the words Arbeit Macht Frei - "Work sets you free".
Auschwitz I — The brick-built buildings were the former cavalry barracks of the Polish Army.
Courtyard between blocks 10 and 11 at Auschwitz I - Block 11 was called "the Block of Death" by prisoners. Executions took place between Block 10 and Block 11 and posts in the yard were used to string up prisoners by their wrists.
Link to Story and 2+-Minute Video
The Last Train to Auschwitz — The film depicts the fate of some of the last remaining Jews in Berlin, who in April 1943 were rounded up at the Berlin-Grunewald station and sent to the Nazi concentration camp at Auschwitz. The film stands out due to its proximity as well as the unsparing realism with which the brutality of a transport to the Auschwitz concentration camp appears: 2-Hour Video