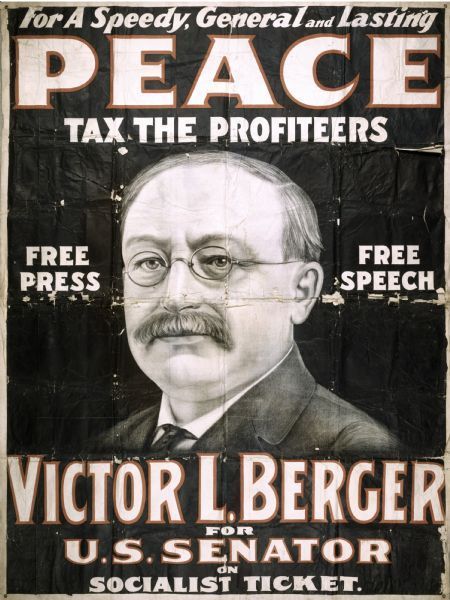 Wisconsin Historical Society
By The Wisconsin Historical Society
Wisconsin State Journal (12/30/15)
Bernie Sanders has been getting lots of media attention for his novel socialist views, but a century ago those ideas were commonplace. Milwaukee's Victor Berger was their main proponent in Wisconsin.
Berger (1860-1929) broke with Marxist orthodoxy by insisting that socialism could come gradually through the ballot box rather than only through violent revolution.
In 1910, voters chose socialist majorities on Milwaukee's common council and county board and elected Berger to Congress.
A cub reporter named William Evjue interviewed Berger for the Milwaukee Sentinel, which fiercely opposed his socialist vision. Evjue expected a hostile reception but was greeted warmly instead: "When I told Mr. and Mrs. Berger that I was agreeably surprised with the reception that had been accorded me, Mr. Berger replied that he had no enmity against the employees of Milwaukee newspapers who were attacking him because, after all, they had to make a living."
When Berger opposed U.S. entry into World War I in 1917, the federal government indicted him for conspiracy. Milwaukee voters returned him to Washington anyway.
In 1919 he was sentenced to 20 years in prison, but when a special election was held to fill his vacated seat, voters re-elected him by an even greater margin than before. The House refused to seat him.
In 1921 Berger's conviction was overturned and he returned to Congress. From 1923 until 1928, he introduced bills proposing dangerous ideas like unemployment insurance, a safety net for the elderly, and public housing.
Berger was killed in a Milwaukee streetcar accident on July 16, 1929.