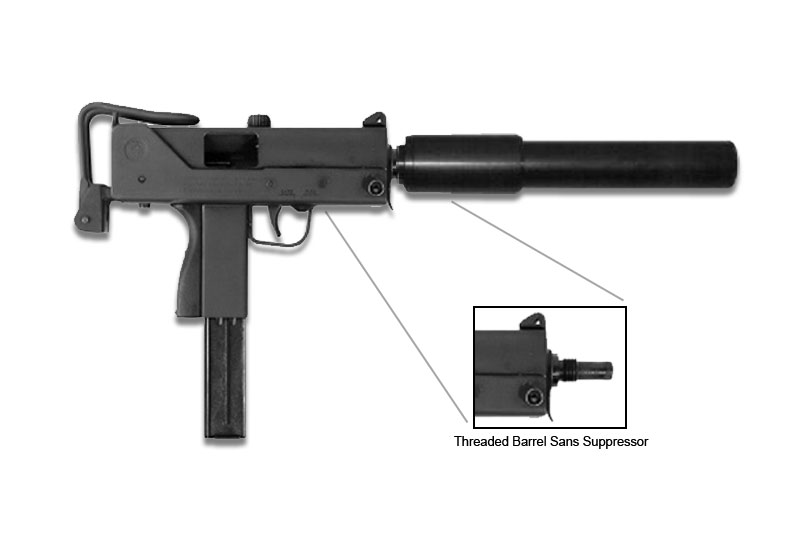 MAC-10 with silencer. (www.militaryfactory.com)
By David Edwards
Raw Story (12/2/15)
A man from Whitehall, New York was indicted in federal court this week after an FBI anti-terrorism task forced discovered that he was buying fully automatic machine guns to allegedly "execute" minorities.
According to the Albany Times Union, a federal complaint accused 18-year-old Shane Robert Smith of buying weapons and ammunition from an undercover agent on Aug 6. The firearms included two weapons capable of firing as fully automatic machine guns: a Colt M16 model A2 and a Military Armament Corporation "MAC 10" machine gun.
Smith also acquired a Beretta model 92FS handgun and 120 rounds of armor-piercing "green-tip" ammunition.
The teen first showed up on investigators' radar in May when he began buying machine guns online. Federal documents indicate that FBI investigators posed as gun sellers on a Russian social media website after Smith posted a request for automatic weapons.
The Post Star reported that Smith told undercover investigators that he needed the weapons to "execute kikes, coons and get money for the crew."
Smith explained that he was building "a hit squad" and would need "a sidearm or heavy weapon" in case he got cornered.
In June of 2014, Smith was arrested for painting racist graffiti and threats of violence on homes and cars. Smith was placed on probation, but the case was sealed because he was under the age of 18 at the time.
Smith's family insisted to WTEN that he had purchased the weapons because he loved the military, but neighbors said that they always locked their doors because they knew Smith was trouble.
One neighbor said that Smith ran a disturbing Facebook page.
"It was mostly hateful, vitriolic words against minorities, and he was talking about hurting them and killing them and uniting them," he recalled. "It was pretty crazy."
Smith was indicted on two counts of illegal possession of a machine gun and one count of possession of an unregistered firearm. He faces up to 10 years in prison.
Watch the video below from WTEN, broadcast Dec. 1, 2015.