By Dominique Mosbergen The Huffington Post (7/20/15)
At a Ku Klux Klan rally held at the South Carolina Statehouse on Saturday, there were many images of hate: men and women shouting slogans of bigotry and division, their clothing emblazoned with symbols of intolerance.
But the most memorable image of the day wasn't one of hatred at all. It was quite the opposite — a photograph of a black police officer giving a white supremacist a helping hand.
The powerful photo, captured by Twitter user Rob Godfrey, shows police officer Leroy Smith helping the unidentified KKK supporter out of the sun. The older man, pictured wearing aNational Socialist Movement t-shirt, is said to have been struggling in the scorching Columbia heat when Smith went to his aid.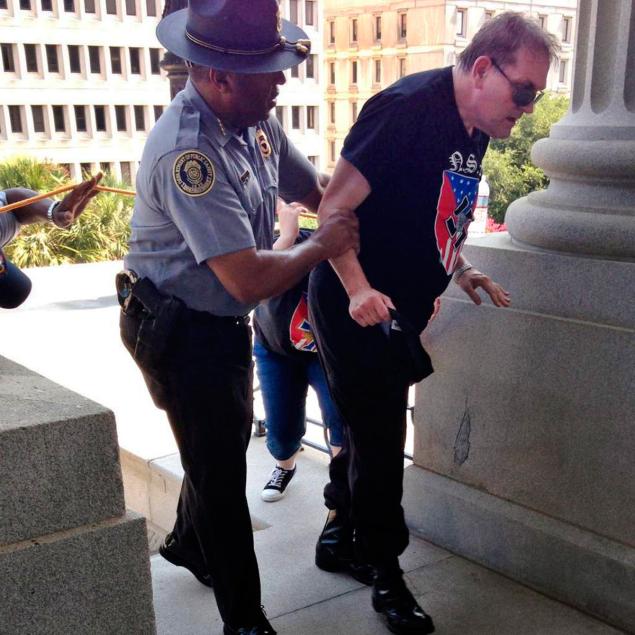 The photo has gone viral this weekend as netizens praise the officer's extraordinary show of professionalism and grace under such trying circumstances.
According to Yahoo News, Smith has worked in law enforcement for 25 years. He is currently the director of the S.C. Department of Public Safety.
Approximately 2,000 people gathered at the South Carolina Statehouse on Saturday for two separate rallies, the Associated Press reports.
The North Carolina-based Loyal White Knights of the Ku Klux Klan held a rally in protest of the removal of the Confederate flag from the statehouse earlier this month.
The Black Educators for Justice, based in Jacksonville, Florida, gathered for a counter-demonstration.
Tensions, the AP says, ran high as supporters from either side taunted each other. Five people were reportedly arrested.