I originally intended to limit this list to 10… then 15… then 20… but 3 more sneaked onto the list so it's become the somewhat unusual Worst 23!
All the information for compiling this list was sourced from Liberty Equality Fraternity and Trees who provides an excellent service to Daily Kos readers with diaries detailing Democratic voting records on major legislation in the House and Senate.
I'm an avid follower of these diaries and found myself wishing for a spreadsheet display of all those recalcitrant Democrats who vote Republican. Then it occurred to me that if this is what I want to see, then the easiest and quickest way to accomplish that is to do it myself. (It only took me til mid April to figure this out… sigh.)
I began with the House. Because there are 188 Democrats in the House, compared to 44 in the Senate, I figured this would be the more challenging so I would tackle it while I was fresh! The concept of "fresh" didn't last very long as the list extended depressingly with each vote. Thus far, there are 104 names on the spreadsheet, far more than I expected or wanted to see. Most have only one (31), two (15) or three (14) 'yes' votes on the nineteen bills singled out by Liberty Equality Fraternity and Trees so it isn't nearly as bad as it sounds.
The spreadsheet was true to its name as it spread out in all directions. I streamlined it to some extent by cutting amendment votes and including only votes on bills plus the Democratic Caucus budget (yes, there are Reps who actually voted against their own party's budget). Nevertheless, with 104 names, the Excel worksheet quickly became too large to capture in one screenshot so I decided to compile a list of the worst offenders for the public scrutiny they deserve.
The spreadsheet below ranks the 23 with the worst at the top. Brad Ashford (NE-02) occupies the number one position and is apparently so desperate to be a Republican that he scored 19 votes for all 19 bills listed. The worksheet uses color-coding to distinguish the votes, ie the dot colors match the bill designation colors to show who voted for which legislation. Click inside the image to see it full size.
Below the spreadsheet, is a list of the bill designations with their legislative names, date of vote, and links to relevant diaries for further information. As Liberty Equality Fraternity and Treesnotes, there's always an elephantine disconnect between what Republicans name their bills and what those bills aim to do. For example, the Fighting Hunger Incentive Act has nothing to do with fighting hunger and everything to do with GOP heartlessness and hypocrisy.
Is your Rep on the list? If they are, then by all means use the information which follows to let them know exactly what you think of their anti-Democratic voting record.
  By Mopshell Daily KOS (4/17/15)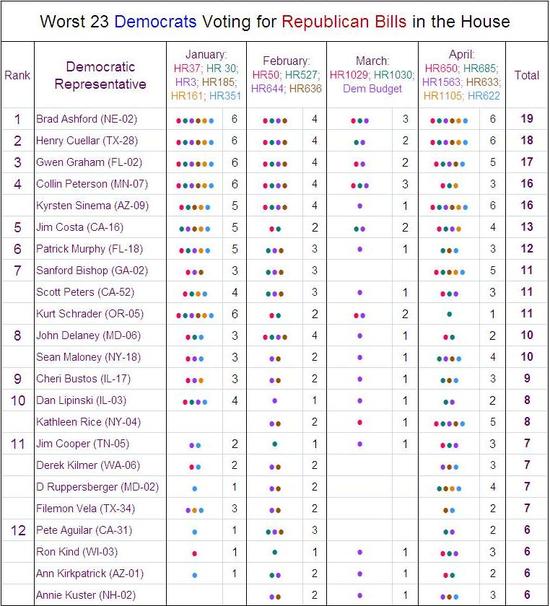 * DINO: Democrat in Name Only